Welcome to Automaatiopäivät23!
THE FUTURE OF AUTOMATION –ARTIFICIAL INTELLIGENCE IN THE CLOUD?
— Please note: also call for posters now! Please upload a short abstract to Easy Chair not later than March 25th! —

CALL FOR PAPERS
Papers are desired from all fields of theory and practice of automation
Automaatiopäivät23 is arranged by the Finnish Society of Automation (SAS) and it is the society´s most important seminar in the fields of process-, factoryand production automation as well as digitalization. The seminar program will contain presentations from both the industrial and the scientific worlds. The seminar will be a fantastic forum for networking between educational-, research-  and business sectors

Topics covered will include:
IoT and cloud services
education
modeling and simulation
energy solutions
process automation
robotics and machine
automation
functional automation
theory and practice

Writing instructions for industrial or scientific papers
Three types of papers can be offered to the seminar:
So-called traditional/industrial papers, which can be written in Finnish, English or Swedish, will be accepted based on the abstract. Interesting case reports are welcomed as well.
"Academic" or scientific papers  must be written in English and will be accepted for presentation and publication based on a peer review. Thereafter, the revised versions of the papers will be submitted to Open Engineering -journal for further review. At this point, the seminar board can issue supplement or correction requests for the papers. Accepted and published papers can be used as parts of a thesis or a dissertation.
Student / discussion papers should follow the writing guidelines of scientific papers when applicable.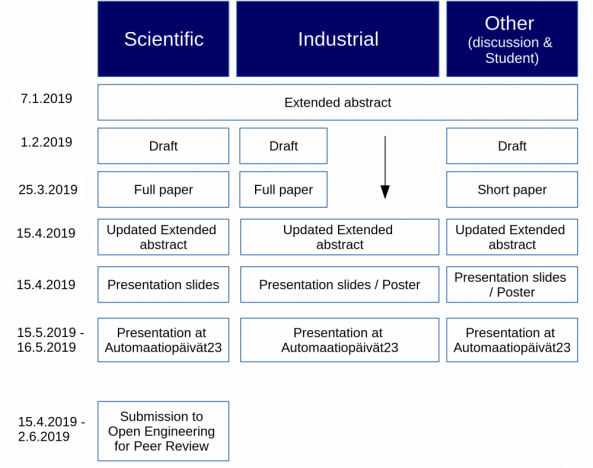 Publication
Traditional and industrial papers will be published at the organizer's web site www.automaatioseura.fi
Accepted and revised scientific papers will be published as a proceedings publication in "Open Engineering Automation in Finland 2019 Special Issue". The authors of scientific papers will submit their papers to the journal for review.
Schedule
Title and preliminary abstract: January 7th, 2019 – extended deadline
Notification of Acceptance: Dec 31st, 2018
Submission of manuscripts: Feb 1st, 2019
Review comments: Feb 25th, 2019
Abstracts for posters: March 25th
Final versions of papers: Mar 31st, 2019
Automaatiopäivät23: May 15th -16th, 2019.
Submission of all abstracts, manuscripts, and papers via EasyChair system: https://easychair.org/conferences/?conf=au23

The abstract should be structured into the following sections:
Title which clearly indicates the research topics.
Authors, names institute, country and email address. The first/presenting author is responsible for ensuring that all authors have agreed to be co-authors.
Key words (3-5)
Background, Aims, Materials and methods, (Results, Conclusions).
Figures and tables are allowed.
Maximum length of the abstract is about 700 words.

Revised scientific papers
Review comments 15.4.2019
Submission opens 15.4.2019
Submission closes 2.6.2019
Submissions in Open Engineering: www.degruyter.com/view/j/eng, submission during 12.6.-31.8.
Template for presentation slides (ppt) here
Paper example (and more writing instructuions) from here
Word template here
LaTeX template here
Poster template here
Call for papers - pdf-version here
For more information, please contact:  Dr. Esko Juuso, University of Oulu, esko.juuso (at) oulu.fi  
...