OPC Day Finland 2019, 6.-7.11.2019
6.11.2019 - 7.11.2019
Industry 4.0 Communication


— Dear all, thank you for OPC Day Finland 2019! See you next year! —
 
6.11. afternoon (12:30 -17:30) + 7.11. forenoon (8:30 -12:50)
Open Preconference 6.11. (10:00-12:00)
at Expo and Convention Centre  Messukeskus Helsinki, Meeting room 203, Messuaukio 1, 00520 Helsinki, Finland
in context of ​the Teknologia 2019 Mega Event, 
OPC Unified Architecture (IEC 62541) is an interoperability standard that enables fast and secure communication over local and global networks. It also defines a common language for domain specific information models, which enables vendor neutral semantic interoperability between various industrial systems, including process automation, robotics, packaging, pharmaceutical systems, etc. The latest developments move OPC UA towards real-time communication using Time Sensitive Networking (TSN) extensions over standard Ethernet networks. And the new Field Level Communication (FLC) Initiative aims to make it the next generation field bus technology.
OPC UA is the corner stone of the Reference Architecture Model Industry 4.0 (RAMI 4.0) that defines a basis for smart manufacturing in future. Industry 4.0 Communication in practice means OPC UA. Also the Asset Administration Shell Industry 4.0 (AASI 4.0) uses OPC UA in its base definitions.
OPC Day Finland gathers the best experts from the world to present and discuss the latest advancements in OPC UA. This is a must event if you are working on smart manufacturing, traffic, health care or other industrial domain and wish to keep your products and production future proof.

PRELIMINARY PROGRAM   
All presentations are in English   

Open and free Preconference on Tech Corner Stage at Teknologia Event  (We 6.11.)
10:00 - 10:30
OPC Foundation – Mission, organization and collaboration, Stefan Hoppe, OPC Foundation
10:30 - 11:10
OPC UA Technical Overview, Wolfgang Mahnke, Unified Automation
11:10 - 11:30
OPC UA Information Modeling Overview, Wolfgang Mahnke, Unified Automation
11:30 - 12:00 
OPC UA Security Overview, Jouni Aro, Prosys OPC

OPC Day Finland 2019

Day 1 (We 6.11.)
12:00 - 13:00
Registration, Lunch & Exhibition 
13:00 - 13:10
Opening Jouni Aro, Prosys OPC, Finnish Society of Automation, OPC Committee
13:10 - 13:40
Keynote: OPC UA is The Industrial Integration Technology, Stefan Hoppe, OPC Foundation, President
13:40 - 14:10
Keynote: Plug and Produce in Pharmaceutical Industry, Josef Trapl, Takeda & Jouni Aro, Prosys OPC
14:10 - 14:40
Coffee Break and Exhibition
14:40 - 15:10
OPC UA Companion specifications​ are the key for success!, Andreas Faath, VDMA 
15:10 - 15:30
From theory to practice: Usage of companion specification in PLC, Christian Hock, Siemens
15:30 - 16:00
Break  and Exhibition
16:00 - 16:30
Connected in 10min: How SAP Systems leverage OPC UA, Rüdiger Fritz, SAP
16:30 - 16:50
OPC UA Product Certification, Alexander Allmendinger, OPC Foundation 
16:50 - 17:10
Getting Started with OPC UA, Pyry Grönholm, Prosys OPC
17:10 - 17:30
Closing Discussion
Day 2  (Thu 7.11.)        
8:30 - 9:00  
Registration & coffee
9:00 - 9:30  
Keynote: Digital Factory of Future, Simo Säynevirta, ABB
9:30 - 10:00  
OPC UA Technical Update and Future Trends, Wolfgang Mahnke, Unified Automation
10:00 - 10:30  
Coffee Break and Exhibition  
10:30 - 10:50  
OPC UA for Process Automation (PA-DIM), Frank Fengler, ABB​
10:50 - 11:10  
TSN and its Configuration: Deep Dive into the Challenge of Complexity​, Ben Schneider, fortiss
11:10 - 11:30  
OPC UA Field Level Communications Initiative, Peter Lutz, OPC Foundation
11:30 - 11:50  
Panel Discussion: Business Benefits of OPC UA ​  

11:50 -  12:50  
Lunch and Exhibition  

Price and registration
Registration fee 100 EUR + vat 24 % includes admission to all the sessions and exhibition of the OPC Day Finland 2019, lunch on 7.11., coffees and the material of the day. 
Registration: https://www.lyyti.in/OPC_Day_Finland_2019
All rights for changes reserved. 
SPONSORS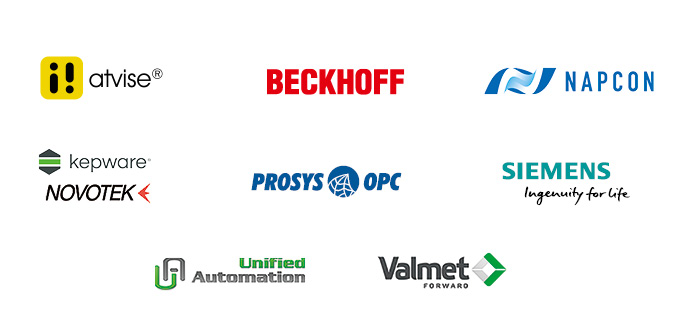 HOTELS
We have made preliminary reservations to the following hotels
Holiday Inn Helsinki City Centre
https://www.ihg.com/holidayinn/hotels/us/en/helsinki/helek/hoteldetail
Elielinaukio 5, 00100 Helsinki
Telephone: +358 9 54255 000
e-mail: hihcc@holidayinnhelsinki.fi
196 EUR/ standard single room / night
211 EUR / standard twin room / nigh
Reservations until 8.10. with reservation code OPCDAY
Original Sokos Hotel Helsinki
https://www.sokoshotels.fi/en/helsinki/sokos-hotel-helsinki
Kluuvikatu 8
00100 Helsinki
Telephone +358 20 1234 601
Original Sokos Hotel Helsinki
151 EUR / standard single room / night
171 EUR / standard twin room / night
Reservations until 8.10.2019 at 8 PM with reservation code: OPCDAY
Sokos Hotels Myyntipalvelu
Telephone +358 20 1234 600
e-mail:  sokos.hotels@sok.fi
website: www.sokoshotels.fi  with reservation code: BOPCDAY
Original Sokos Hotel Presidentti
https://www.sokoshotels.fi/en/helsinki/sokos-hotel-presidentti
Eteläinen Rautatiekatu 4
00100 Helsinki
p. 020 1234 608
 
169 EUR / standard single room / night
189 EUR / standard twin room / night
Reservations until 8.10.2019 at 8 PM with reservation code: OPCDAY
Sokos Hotels Myyntipalvelu
Telephone +358 20 1234 600
e-mail:  sokos.hotels@sok.fi
website: www.sokoshotels.fi  with reservation code: BOPCDAY